About Nintex
The most complete platform for process management and automation
Accelerate digital transformation with the powerful and easy-to-use Nintex Platform. Partnering with Nintex, DAC Systems is empowering decision makers with a consolidated workflow solution that takes your unique business requirements into consideration. From tasks to departmental workflows to companywide processes, Nintex makes it easy to automate processes to keep everything moving while staying focused on your core business deliverables.
Nintex is an easy, point and click workflow and content automation application that makes collaboration easier by connecting every person, department and system inside or outside your business. When nothing gets in the way of the work, work gets done. Extending the capabilities of SharePoint, both online and on premise, Nintex takes business efficiency to the next level, no matter where you are or what device you are using.
The Nintex suite of products includes:
Nintex workflow Cloud
Nintex Workflow Cloud is a cloud-based platform where you can design workflows to automate simple to complex processes using drag-and-drop interactions without writing any code. You can build digital forms, integrate web services, and connect to third-party applications to create a seamless experience for your end users throughout the workflow.
Nintex Promapp™
Establish total visibility and control over your enterprise processes with Nintex Promapp. Use visual process mapping software to encourage company-wide collaboration, increase accountability, and improve your processes—all with one easy-to-use platform.
Process Intelligence
Understand your process portfolio with workflow analytics.
Nintex Hawkeye Workflow Analytics
Analyse, optimise, and govern your process automation portfolio.
Process lens
Analyse and optimise the effectiveness and efficiency of end-to-end business processes (across multiple workflows) and answer key questions such as:
What is the average time for your company to complete an end-to-end business process?

Who from your organisation and how many people are involved in a given business process?

How often has a given business process run in a certain period of time?

What are the business outcomes of your processes (e.g., approved, rejected, stalled)?
Nintex Xtensions™ Framework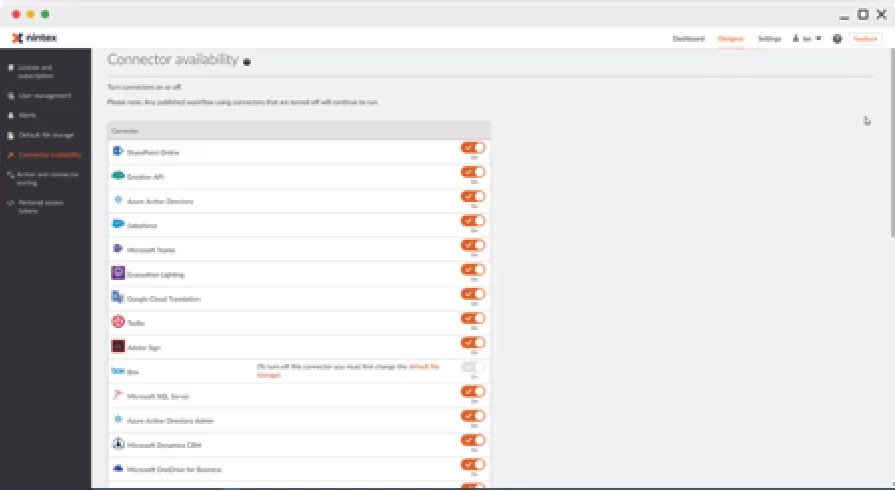 Forms and Mobile Apps
Automated enterprise forms solutions
With Nintex Forms, you can create dynamic online forms to capture and submit accurate and current data from wherever you are. Our user-friendly design canvas, drag-and-drop controls, and advanced business logic make it easy to customise your forms for every business need.
Nintex Sign™ powered by Adobe Sign
Sign documents through signature-based workflows.
Enhancements to the Adobe Sign integration

Multiple recipients, signing order

Approval, acknowledge, sign
Nintex Mobile & AppStudio
Keep work moving with Nintex Mobile
Using Nintex Mobile, workers can receive notifications from their mobile app, fill out and submit forms, review and approve documents, and keep business processes running efficiently—from anywhere, on any device. With mobile workflow management, there are no boundaries to productivity.
Usage lens
Provides an aggregate view across your business process portfolio to help you answer questions such as:
How widely is workflow automation being deployed across my organisation?

How many workflows are being deployed over time?

Who on my staff is involved in which processes?

What is the average duration of task completion and are we becoming more efficient over time?
Inventory lens
Monitor and govern your process automation portfolio, gaining critical insight into your workflow inventory:
How many workflows are running across your organisation?

Which department/group is running the most workflows? The least?

How often has a given business process run in a certain period of time?

What are the business outcomes of your processes (e.g., approved, rejected, stalled)?
Unrivaled business process integration
Nintex Connectors integrate your business apps within your automated workflows. Integration is as simple as dragging a built-in connector into the Nintex designer canvas. Nintex Connectors cover the popular apps you use every day, and our Xtensions™ framework lets you build and customize your own connector.
Document Generation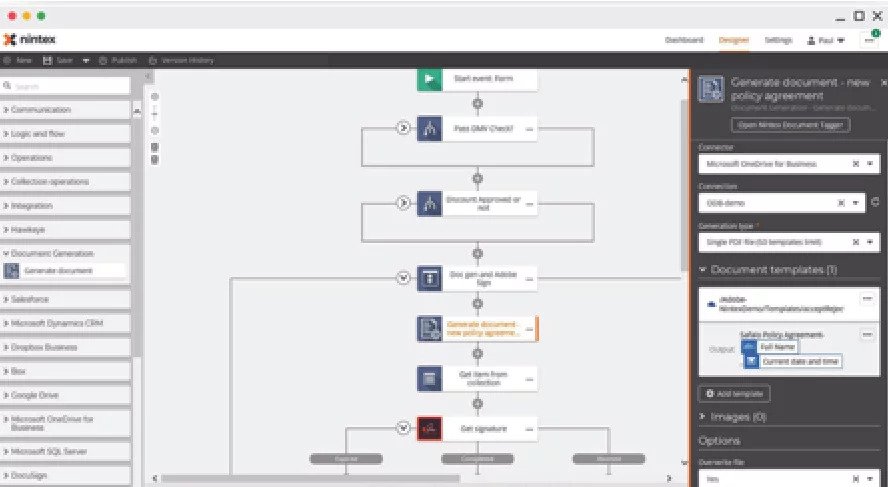 Don't let the manual creation of critical documents like contracts, work orders, and invoices slow down your business. Equip teams with Nintex DocGen® to instantly build and share documents with just a few clicks from directly within Salesforce or Office 365. No more cutting and pasting, no more errors. Deliver precise and compliant documents the first time, every time.
DocGen & DocGen® for Salesforce
Create documents quickly and easily.
Accelerate time-consuming paperwork with dynamic, data-driven, and compliant documents.
Nintex Foxtrot RPA
Drive speed and volume by mimicking most human-computer interactions.
Quick to build and deploy
Whether delivered in the cloud or on premise, Nintex will transform the way you do business.